Anhydrous Ammonia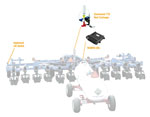 IntelliAg ISOBUS NH3 Control
Description :
The IntelliAg™ planter/drill system (PDC) opens the opportunity to use the planter for more than just an implement to put seeds in the ground. The system provides planter monitoring of seeds being placed in soil by each row unit, including counting seeds planted per hectare, centremetres between seeds, and average population.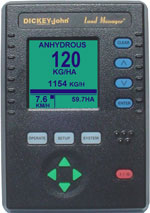 Land Manager NH3 Control
Description :
The DICKEY-john Land Manager NH3 Control System precisely maintains your desired kg/ha of N application rate by adjusting the flow of NH3 to your distribution manifold, automatically accommodating changes in ground speed, nurse tank pressure and other system dynamics in real-time. No other control system comes close to the precision of Land Manager.