Liquid Sprayer
IntelliAg ISOBUS Sprayer Control
Description :
The IntelliAg™ Liquid Sprayer Control System is available as a Pressure based or Flow Meter based system. It has section control capabilities and is easily retro-fitted to many different sprayer configurations.
Magnetic Flow Meter
Description :
The Magnetic Flow Meter has no moving parts, which offers improved reliability and consistent accuracy. Available in 3 sizes 1/4", 1/2" & 1".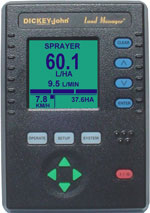 Land Manager Sprayer Control
Description :
The DICKEY-john Land Manager Liquid Control System precisely maintains your desired l/ha application rate by adjusting the flow of chemical to your boom, automatically accommodating changes in ground speed, boom state and other system dynamics in real-time. No other control system comes close to the precision of Land Manager.